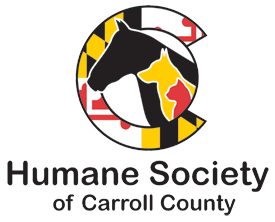 2517 Littlestown Pike
Westminster, Maryland 21158
410-848-4810 410-875-5379
Fax 410-875-9736 www.hscarroll.org
***We are currently hiring for a full-time Animal Control Officer and a part-time Event Coordinator
—————————————————————————————————————————————————————
Full Time Animal Control Officer
Duties and Responsibilities:
•Rescue animals from dangerous situations, as well as picking up sick, injured, and impounding animals, when needed. •Work with area Police and interact with and educate the public on the responsibility of companion animal ownership, explaining provisions of the Carroll County Code. •Operate an official Animal Control vehicle, acting as a mobile representative of The Humane Society of Carroll County and Animal Control and our values, to respond to calls, investigations, and to support other field staff as needed.  Prepare documents and testify in court •Perform other related duties and special projects as assigned by the Executive Director – and Chief Animal Control Officer.
Qualifications and Requirements:
•Knowledge/experience in state/local animal laws and enforcement techniques. •Knowledge of and ability to handle domestic, exotic, and wild animals. •Possess and maintain clear criminal background record. •Possess and maintain a valid driver's license with good driving record. •Excellent interpersonal skills with a customer service orientation. Ability to communicate effectively, courteously, and professionally with a variety of individuals representing the public, board members, volunteers, donors, and employees. •Ability to work on-call nights, weekends, and holidays. •Possess and maintain certification for Euthanasia by Injection (EBI) or obtain certification within six months of hire •Possess and maintain certification for Chemical Capture or obtain certification within one year of hire •Possess and maintain certification for Pepper Spray (OC) or obtain certification within six months of hire •Successfully complete Animal Control Officers training program. •Computer literacy with proficient use of programs including Microsoft Office programs, email, Internet and database management software. Maintain pre-exposure rabies vaccine. * Carroll County resident preferred. * The individual selected for this position will be considered an "Essential Employee." Essential employees are required to work during a period of general emergency.
Physical Requirements and Work Environment:
•Ability to lift 50 pounds unassisted regularly, 50+ pounds assisted. •Ability to be comfortable working with cats, dogs, small animals, livestock, reptiles, fish and wildlife. •Ability to perform strenuous physical activity on a daily basis, including but not limited to: lifting, carrying, running, reaching, stooping, squatting, standing, and bending.  •Due to nature of shelter work, may be exposed to deceased, fractious, or aggressive animals; hostile or irate persons; zoonotic or other diseases; unpleasant noises, odors, or sights; and extreme temperatures.
Education and Experience:
•HS diploma. •A clear criminal background and drug screening. current driving record must be made available prior to confirmation of employment.
Benefit Package: Health, Vision, Dental, 401K, Paid time off
HSCC is an EOE
Resumes and cover letter should be summitted to msmiller@carrollcountymd.gov or dkinna@carrollcountymd.gov
Closing Date; May 31, 2022, 5:00 PM
——————————————————————————————————————————————————–
Part Time Event Coordinator
The Humane Society of Carroll County is currently seeking an outgoing and enthusiastic person for our part-time event coordinator position.
Monday, Thursday, Friday, 8:30-4:30 (25 hours/week)
–Occasional Saturdays for events
Duties and Responsibilities:
Work with the Programs team to plan and execute events for the Humane Society.

Includes 2 large fundraisers and smaller events throughout the year.

Manage team of volunteers at events.
Establish and maintain relationships with vendors, venues, and other community organizations.
Work with Programs team to develop marketing materials and advertise events.
Help where needed with other aspects of Programs team—marketing, social media, volunteers.
Requirements:
Ability to email and make phone calls to solicit for donations and plan event logistics.
Must be organized, able to pay attention to detail, and multi-task.
Must be able to problem solve and troubleshoot issues that arise while planning events.
Must be at least 18 years of age.
Ability to lift 50 lbs. and carry out physical work such a setting up and tearing down events.
Valid driver's license
Proficiency with Excel, Word, and Facebook.
Hours:
Part Time– 25 hours weekly
Occasional Saturday for events
Salary:
Based on experience
Please email resumes and questions to Amanda at atyler@carrrollcountymd.gov or call 410-848-4810 ext 818.
Closing date–When position is filled.