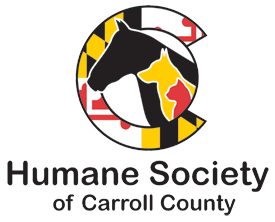 2517 Littlestown Pike
Westminster, Maryland 21158
410-848-4810      410-875-5379
The Humane Society of Carroll County is currently hiring for two positions: (1) a full-time veterinarian and (2) a part-time offsite transport driver. Please scroll down to see all opportunities.
Veterinarian – High Quality/High Volume Spay/Neuter Veterinarian, Central MD
Fast-growing community-focused animal welfare agency in central Maryland seeks a high-quality, high-volume spay/neuter surgeon for spay and neuter. Full-time/Part-time, specifics negotiable.
Description
We are a progressive 501-C-3 in central Maryland with a new high-quality, high-volume spay/neuter clinic. If you feel strongly about helping animals in your community and being part of a committed and passionate team, this job is for you. Full-time/Part-time, specifics negotiable.
· Perform on average 25-30 spay/neuter surgeries a day
· Follow best practices on pre-, peri-, and post-operative care.
· Provide confident and clear direction to clinic staff.
· Oversee all aspects of assigned patients, including but not limited to; physical examination; surgery; pre- and post-operative care; anesthetic protocols; patient monitoring; and emergency response.
· Assess individual patient issues and provide sensible and compassionate solutions.
· Communicate issues regarding the clinic's disease control protocols, surgical protocols, or other medical issues with the Executive Director.
· Perform weekly exams at local animal shelter and provide clear and attainable medical plans for staff to follow.
· Collaborate with different departments within the organization to ensure excellent medical care throughout the different programs offered
· Model a standard of continual commitment to improvement in all aspects of organizational operations and handling of animals.
· Maintain Continuing Education requirements as set forth by the Maryland State Board of Veterinary Medicine
Qualification Requirements
· 2-3 years relevant small animal veterinary experience including medicine and surgery
· No sanctions with the Board of Veterinary Medical Examiners
· Proficient in sterilization surgeries for cats and dogs.
· Maintain an active Maryland Veterinary License, Maryland Controlled Dangerous Substance License, and Professional Liability Insurance Policy
· DEA License preferable
· Able to exercise professional judgment in the best interest of the animals.
· Strong interpersonal, collaborative and team-building skills
· Strong communication skills
· Positive attitude
Benefits (Full-time)
· Paid time off and holidays
· Health insurance
· Life insurance
· Aflac plans available
· Covered veterinary license renewals
· AVMA membership
· Continued education provided
· 401k retirement plan
· No on call, No evenings, limited weekends
Email resume to MDSpayNeuterClinic@gmail.com
———————————————————————————————————————-
Off-site Transport Driver (part-time)
This position is responsible for transporting cats and small critters to our off-site adoption centers while ensuring their health and comfort.
-Hours are Tuesday-Friday (8am-1pm; 20/hours per week) (additional hours during event participation)
Responsibilities:
-Transport animals
-Clean and prepare cages in the adoption center
-Ensure all animals in the adoption center appear healthy and stress free
-Deliver and collect adoption paperwork
-Disinfect transport carriers upon return to the shelter
-Maintain a clean and orderly vehicle (provided by the shelter for transport use)
Requirements:
-At least 21 years of age
-Possess a cleaning driving record
-Able to lift to 30 lbs.
-Good communication skills
-Ability to multi-task and stay on schedule
-Ability to drive a larger van, long distance (1-2.5 hours)
Send interest/resume to Michelle Fidler, Director of Animal Care—mfidler@carrollcountymd.gov
---