When:
April 12, 2021 – April 16, 2021
all-day
2021-04-12T00:00:00-04:00
2021-04-17T00:00:00-04:00
Where:
Humane Society of Carroll County
2517 Littlestown Pike
Westminster, MD 21158
USA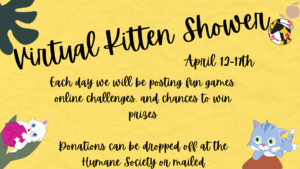 Due to the rise in Covid cases, we have made the difficult decision to have our kitten shower virtually instead of at the Humane Society this year.
For a week, starting April 12th we will be posting fun kitten shower items on our Facebook page ( such as games, virtual challenges, fun facts, etc).
We encourage all to participate, and we will have chances to win raffles and other fun prizes.
The Humane Society is still in need of donations as we enter kitten season. Donations can be dropped off at the Humane Society during our business hours (M, T, W, F–8:30-4:30, TH 8:30-7, Sat 9-2). We have a table inside our front door for items to be dropped off at.
Donations can also be shipped directly to us at Humane Society of Carroll County, 2517 Littlestown Pike, Westminster, MD 21158.
Below is our wish list of items we need. We thank you for your support.
If you have any questions please contact Amanda via email at atyler@carrollcountymd.gov
Our Wishlist:
Most needed items:
-Heating Disc (microwavable)
-Gift cards to Bowmans Feed and Pet
-Puppy training pads
-Small cans of Kitten food – Fancy Feast or Royal Canin
-Nebulizer Machine (used for humans with Asthma)
-Probiotics – Forti Flora or Proviable
-Saline nasal spray – Non medicated
Other items on our wishlist:
-Baby Wipes
-Small bags of Kitten Chow and Royal Canin Kitten food
-Gift Cards to Petsmart
-Small canisters of Kitten Milk Replacer (powder form)
-Plastic cat toys
-Baby Foods – stage 1 meats – turkey and chicken
-Rectal thermometers
-Pet pill gun (Pet piller)
-Heating Pads with auto shut off
-Fleece throw blankets – small size